IMPORTANT NOTICE: Unfortunately due to recent fire damage, the facilities in the lodge are not available at this time. Please contact us for more details.
---
Cradle Forest Inn Gallery
UPCOMING EVENTS AND PROMOTIONS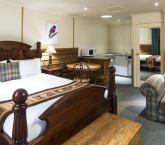 Cradle Forest Inn self check in
It's been a busy few months at the Inn and we are ready to unveil the new self checkin system. In the coming weeks we will launch the new system and online booking will receive self check-in information.
Online bookings NOW available.