IMPORTANT NOTICE: Unfortunately due to recent fire damage, the facilities in the lodge are not available at this time. Please contact us for more details.
---
FEATHERS BISTRO
At our Feathers Bistro we use the freshest seasonal produce from our region. Our menu has something for everyone and includes such mouth-watering delights as wood-fired pizzas, delicious Texas Smoked BBQ ribs, meats and fish, hearty soups and steaks. Enhance your dining experience with one of our local wines or beers. Tasmania is home to some of the most impressive wines in the world and at Feathers Bistro we have an extensive list of local wines to complement every meal. Our range of tantalising desserts accompanied by freshly brewed coffee or tea are also guaranteed to tempt you.
Feathers Bistro is fully licensed and open for breakfast and morning tea between 8am and 11am, and between 11am and 8pm for all other meals and snacks. At Feathers Bistro we serve real food to satisfy every taste and appetite.
Visit Feathers Bistro now and you will be both surprised and delighted.
UPCOMING EVENTS AND PROMOTIONS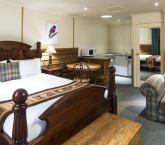 Cradle Forest Inn self check in
It's been a busy few months at the Inn and we are ready to unveil the new self checkin system. In the coming weeks we will launch the new system and online booking will receive self check-in information.
Online bookings NOW available.